One of the primary goals of any keynote speaker event you're hosting is to draw in participants and raise their interest, and there are several ways to go about this. Among the first, at least chronologically: Announcing the upcoming keynote speaker event in a way that interests people and makes them likely to attend.
Sekou Andrews is one of the nation's top keynote speakers and musical artists, with a huge portfolio of past engagements that features some of the largest commercial entities in our country. When booking Sekou or any other major keynote speaker, what are some of the ways you can craft an announcement for your event that will draw in eyes and help immediately begin building interest in the event? Here are several basic tips.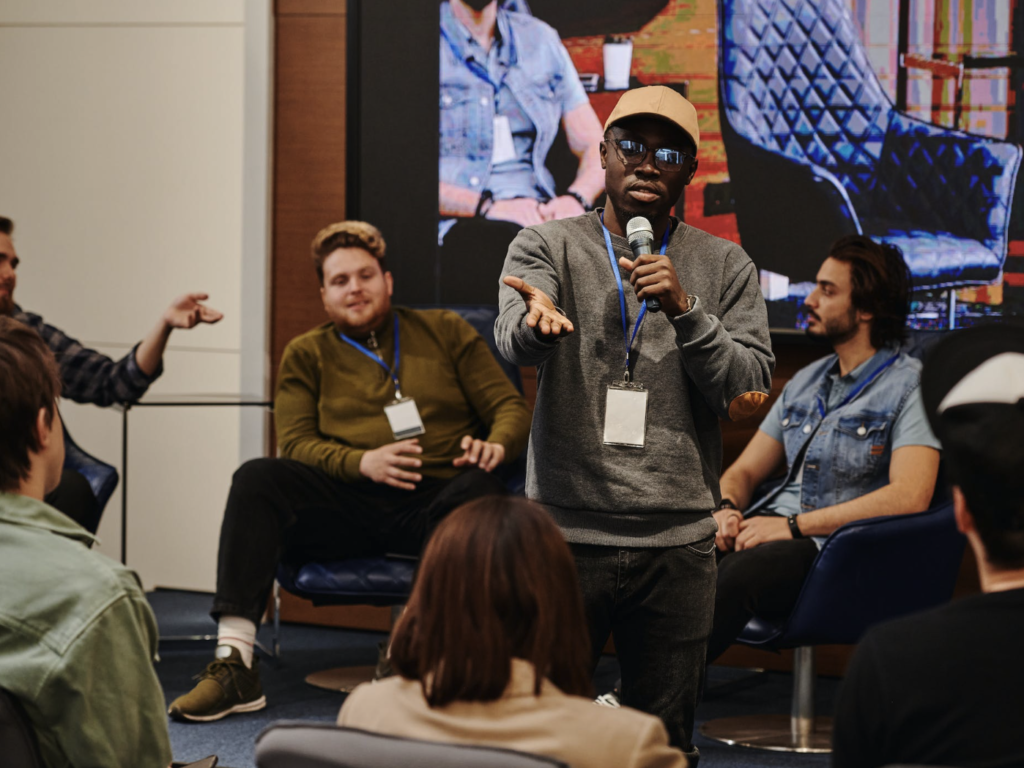 Captivating Headline
The headline of your announcement will be the first thing potential attendees will see and read, so it's important to make sure it packs a punch. A headline like "Sekou Andrews to Headline Keynote at Upcoming Conference" is straightforward and informative, but doesn't necessarily do much to captivate the reader's attention.
Consider adding some additional elements to the headline that inject a bit more excitement, such as:
"Catch Sekou Andrews LIVE at Our Upcoming Keynote Speaker Event!"
"Get Inspired: Sekou Andrews to Headline Keynote at Annual Conference"
"See Sekou Andrews in Action: Book Now for Our Upcoming Event!"
With a headline like one of these, or perhaps something that's a bit more specific to your event or Sekou's talk, you can help ensure that potential attendees will be more interested from the very beginning.
Timely, Relevant Details
Your headline may have grabbed attention, but to really solidify interest in attending the event, it's important to provide some additional details about what attendees can expect. Details here should include everything from the date and time of the event to a brief overview of what Sekou will be speaking about.
You might also want to consider including some additional elements that help build excitement for the event, such as:
A quote from Sekou himself about his upcoming talk
A brief video clip featuring Sekou or another keynote speaker from a past event
A list of some of Sekou's most popular keynote topics
By including timely, relevant details in your announcement, you can help ensure that potential attendees have all the information they need to make a decision about whether or not to attend your event.
Photos of the Speaker
Many people are visual learners, so including one or more photos of your keynote speaker in the announcement can also be a helpful way to increase interest. A headshot of Sekou is a good place to start, but you might also consider adding a photo from one of his past speaking engagements, or perhaps even a short video clip.
If possible, look for photos or videos that capture the speaker in action as they're giving a talk. This can help potential attendees get a better sense of what it would be like to see Sekou Andrews live, and may even give them some ideas about what they could expect to take away from the talk.
Tease Content — But Don't Give Too Much Away
Like any other event you're promoting, providing just the right level of detail in your announcement is key. On the one hand, you want to provide enough information to pique interest and help potential attendees understand what they can expect from the event.
On the other hand, you don't want to give too much away — otherwise, there's less incentive for people to actually attend the event. When in doubt, it's often helpful to err on the side of providing too little information, rather than too much.
You might, for example, provide a brief overview of the topic Sekou will be speaking about, but leave out some of the more specific details. Or, you could mention one or two of the takeaways attendees can expect from his talk, without going into too much depth.
By providing just enough information to pique interest, you can help ensure that potential attendees will be intrigued and motivated to attend the event to learn more.
Include a Clear Call to Action
A call to action refers to a specific instruction that you want your audience to take after reading or hearing your message. In the context of an announcement for a keynote speaker event, your call to action might be something like:
"Register Now to Attend!"
"Book Your Tickets Today!"
"Save Your Spot at This Can't-Miss Event!"
By including a clear call to action in your announcement, you can help ensure that potential attendees know exactly what they need to do next in order to attend the event.
Including a call to action also makes it more likely that people will actually take the desired action, rather than simply forgetting about the event or deciding not to attend.
Maintaining Existing Branding Themes
If this keynote speaker event is just one of many branding or marketing initiatives you're working on, it's important to maintain any existing branding themes in your announcement. This might include using the same font and color scheme as other elements of your marketing campaign, or featuring your company's logo prominently in the announcement.
If you have an event website, you might also want to include a link to this site in the announcement. This can help ensure that potential attendees have all the information they need to learn more about the event, and make it easy for them to register or purchase tickets.
By maintaining existing branding themes in your announcement, you can help create a cohesive marketing campaign and increase interest in your event.
For more on how to generate buzz for a keynote speaker event in the event's announcement, or to learn about any of Sekou Andrews' services or past work, contact us today!